MC-Bauchemie Malaysia celebrated the ceremonial grand opening of its new production site with customers and employees.
Grand opening ceremony of new site of MC-Bauchemie Malaysia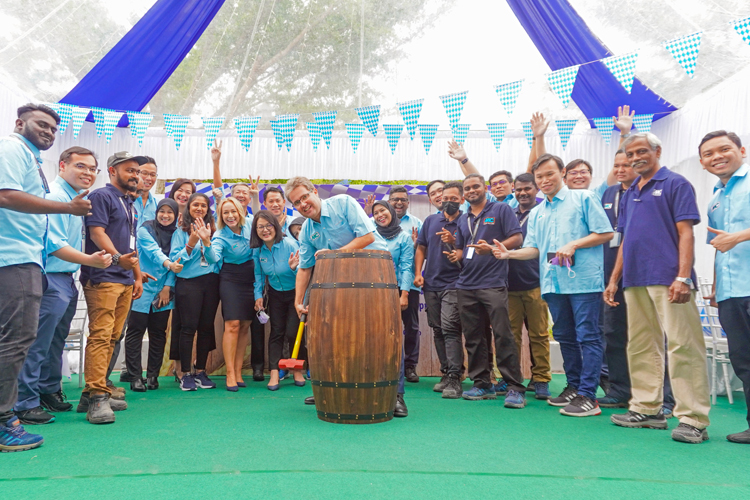 Dr Ekkehard zur Mühlen, Managing Director of MC-Bauchemie GmbH & Co. KG, and Vincent Loke, Regional Manager for Southeast Asia at MC-Bauchemie, welcomed the customers and employees of MC-Bauchemie (Malaysia) Sdn Bhd (hereinafter: MC-Bauchemie Malaysia) and representatives of MC-Bauchemie Singapore to an Oktoberfest that was all about the mix of cultures and traditions. The celebration opened with the traditional Chinese Lion Dance, which is said to bring success, prosperity and good luck to MC-Bauchemie Malaysia and its new location.
Production hub for Asia and Oceania
In their opening speeches, Managing Director Dr Ekkehard zur Mühlen and Regional Manager Vincent Loke thanked the entire team of MC-Bauchemie Malaysia, but especially Sylvia Cheong and Justyna Iwanska, who successfully managed and implemented the project of setting up the new production site during the difficult time of the coronavirus pandemic and put a lot of work, heart and soul into it.
"With our new location, we have a modern production hub that enables us to manufacture and test niche products that are in demand in the Asian market as well as in the markets of Oceania," Dr Ekkehard zur Mühlen emphasised in his speech, adding: "This allows us to respond much faster and more flexibly to local requirements in these markets and also to reduce freight costs by eliminating imports from Europe." He further said that the product portfolio of MC-Bauchemie Malaysia is based on German formulations, but adapted to the requirements of the markets to be supplied.
MC-Bauchemie Malaysia's new production facility consists of three modern production areas. The powder production includes a powder production with automated mixing and filling processes as well as automated palletising. Predominantly grouts, concrete repair and sealing products, mortars and concrete additives are produced. The liquid production includes two production facilities, in which concrete admixtures, including those based on polycarboxylate ethers, concrete additives as well as reactive resin products and dispersions are produced. In addition, storage, logistics and office areas as well as laboratories for powder products, concrete and liquid products are part of the new production site. The powder laboratory is equipped with state-of-the-art equipment for testing compressive and flexural strength as well as modulus of elasticity. In the concrete laboratory, concrete quality tests are carried out according to European and American standards (EN and ASTM).
Modern production facilities for powder and liquid products
Regional Manager Vincent Loke praised the facilities at the production site and looked forward beyond the inauguration of the plant: "The new plant has high production standards and comprehensive quality management, as well as a strong research & development team that is also able to develop customised solutions that meet local market requirements. In March 2022, Visnu Natesan joined MC-Malaysia and gradually took over the responsibility for sales and marketing, as well as for the further development of our product base. This is then a further important step towards localizing our sales efforts and enhancing our customer base."
Administration and part of the management continues to stay in the current office, located in Petaling Jaya, about 17 km west of Kuala Lumpur. MC-Bauchemie Malaysia currently employs 45 people, 65% of whom work in the new production facility and 35% in administration. Today, the MC-Bauchemie Group is directly represented by its own companies in Asia, ranging from the United Arab Emirates across, India, Singapore and Malaysia to Vietnam, Taiwan and the Philippines, as well as in some other countries through cooperation partners and distributors.