On 11 May 2022, MC-Bauchemie Ghana Ltd. opened its new site in Accra with an inauguration ceremony.
MC-Bauchemie Ghana opens new site in Accra
On 11 May 2022, MC-Bauchemie Ghana Ltd. opened its new site in Accra with an inauguration ceremony. Noble Bediako, Managing Director of MC-Bauchemie Ghana, and his team welcomed 210 representatives from politics, business, administration and universities, as well as customers and partners to the modern new site, which includes a production facility, a training center, a laboratory, a warehouse, logistics and office space.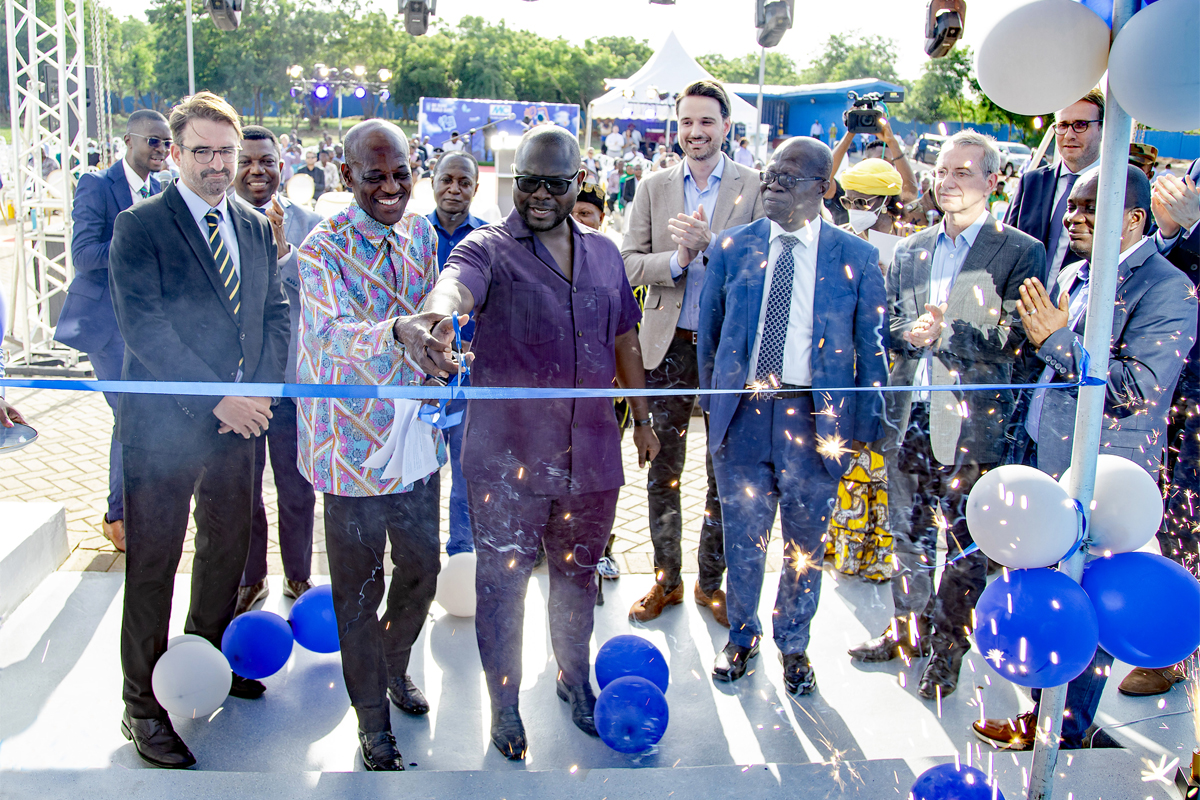 Noble Bediako: MC-Bauchemie Ghana shows hard-work, team-work, dedication and integrity
MC-Bauchemie Ghana was founded in 2016 and registered as a manufacturing company to gain a foothold in the growing West African market. The company officially started operations in 2017 and has grown very rapidly since then. "We started with two employees and currently employ 40 full-time employees," Bediako said with pride, adding, "We now produce over 30 products in Ghana, using more than 75% local raw materials." A success story to which another nice chapter has been added with the opening of the new site, all the more since the COVID-19 pandemic also terribly affected Ghana. Bediako continues: "The COVID-19 pandemic brought so many things to a halt and many negative effects to companies and employees. We at MC-Bauchemie Ghana are happy to have achieved our performance goals during this difficult time and successfully completed our construction project with the help of our German mother company." He thanked Nicolaus M. Müller and Christoph Hemming for their unflinching support and faith in the Ghana team and their foIIow-ups throughout the project.
MC-Bauchemie Ghana makes an important contribution to the further development of the construction industry in Ghana
In addition to a production facility, the new site includes a training centre, a laboratory, storage and logistics areas, and also a three-story office complex, on whose festively decorated forecourt the opening ceremony took place. The program included speeches by the MC-Bauchemie management team and guest speakers, product demonstrations, musical performances, and an opening and closing prayer, and was concluded with a get-together. The keynote speaker at the grand opening of the new site in Ghana was Professor Mark Adom-Asamoah, the Provost of the College of Engineering at the Kwame Nkrumah University of Science and Technology (KNUST) in Kumasi and Associate Professor at the Faculty of Civil Engineering. He thanked MC-Bauchemie Ghana for its contribution to the advancement of civil engineering in Ghana. The guests of honor also included Daniel Krull, Ambassador of the Federal Republic of Germany to Ghana, and Francis Asenso-Boakye, the Minister of Works and Housing in Ghana, who presented their greetings to MC-Bauchemie Ghana and expressed their appreciation for MC's efforts in Ghana. Since 2016, MC-Bauchemie Ghana, in cooperation with Ghanaian institutions and companies, has trained more than 1,000 planners, engineers, architects, civil engineering students and processors in the Ghanaian construction industry in specialized seminars in theory and practice on various topics such as concrete technology and concrete repair.
Nicolaus M. Müller sees great growth and development potential in Ghana
Nicolaus M. Müller, one of the two managing directors of the MC-Bauchemie Group, welcomed the guests on behalf of the MC-Bauchemie Group and explained why MC-Bauchemie remains committed to Ghana: "The economic situation in Ghana is promising and Ghana also has one of the most stable democratic systems on the continent. Therefore, it is important for us to continue investing in Ghana. Moreover, the demand for construction materials for building construction and infrastructure projects on the growing African continent is huge, and it will continue to grow very strongly in the upcoming decades. MC-Bauchemie Ghana has an excellent position in the market and has ensured a know-how transfer through the introduction of our product systems as well as training courses, thus already making an important contribution to improving the construction industry. We still see great growth and development potential in Ghana, but also in the neighbouring West African countries, which we want to leverage with our well-trained as well as dedicated team of MC-Bauchemie Ghana."
MC-Bauchemie Ghana is a pioneer in training, know-how transfer, and environmental and climate protection
The construction of the training centre, which is located on the first floor of the new building and includes a seminar room, a room for product demonstrations, a concrete laboratory, a research and development laboratory and a cafeteria, has been supported by the German Federal Ministry for Economic Cooperation and Development (Bundesministerium für wirtschaftliche Zusammenarbeit und Entwicklung - BMZ) and the associated develoPPP.de project to promote capacity building in the construction industry in five countries, including Ghana. Among other things, the goal is to expand the technical qualifications as well as the employability of players in the construction sector in Ghana. Reason for this is that the construction of the new site had shown how few skilled workers there are in the construction industry in Ghana, according to Managing Director Noble Bediako. "Therefore, as part of a five-year program, we will enter into even more cooperation with research and training institutions, with the support of BMZ and DEG (Deutsche Investitions- und Entwicklungsgesellschaft mbH), to train about 7.000 engineers, technicians and craftsmen," Bediako explained, adding, "We also aim to develop our research and development team into one of the best in the industry, both nationally and in the West Africa sub-region, and we are fully committed to increase the proportion of raw local materials used in our products to 100% in order to protect the environment and climate."
MC-Bauchemie Ghana continues to focus on quality and organic growth in West African sub-region
MC-Bauchemie Ghana's construction chemical products are currently among the only few on the market that have been fully certified by the Ghana Standards Authority. This underlines the high quality of MC's products, which ensures greater safety in construction. Bediako said, "We want all construction stakeholders to follow the general standards and requirements to enhance the quality of the products as well as the structures, and increase their lifetime." Bediako also emphasized the intention to supply the West African sub-region even more. "Over the past couple of years, MC-Ghana has pursued the supply of products and product systems to our neighbouring countries with growing dedication. We have dedicated some effort into supporting some major projects in Togo, Liberia, Ivory Coast, Burkina Faso and recently in Benin. The plan is for us to grow organically to become a major supplier of not only products, but expertise within the sub-region. We definitely aim to grow and grow big; but we intend to do so strategically."
MC-Bauchemie in Africa
MC-Bauchemie has long-standing business relationships throughout the African continent and has been represented by its own companies in Ghana, Guinea and, since the end of 2018, Ethiopia.